Who knew the adventures ahead of us when we decided to self-publish a printed book about coworking. Inevitably, we learned that the second most important thing after you manage to write it, print it and ship it to your doorsteps, is to show it to the world. So after organizing our first book launch ever in Berlin, it was time for us to officially introduce the book to the world. As a result, we organized, on November 25th, 2021 an online community book launch, with the intention of connecting the spaces featured in the book with our Kickstarter backers, book readers and extended community.
Launching "Around The World in 250 Coworking Spaces" online
Due to COVID-19, organizing in-person events around Europe and around the world has been a serious challenge, close to impossible. While it does not mean it won't happen at some point in the future, the best way there was to gather the AW250CS community around the book at the time, was to do it via a live stream.
As the last two years have been challenging for everyone, we really wanted this online book launch to be a real celebration. Not just a celebration of our book being out in the world, the event had to be the celebration of the global coworking community, recognizing each and every space around the globe, acknowledging the really hard times they all went through, and embracing the road ahead, together.
To reach this goal, we structured the programming of the event around what we believe to be the biggest strengths of coworking moving forward: positive impact, sustainability, revitalization, experience, and community.
What did participants experience during the online book launch?
Online events are amazing because they have no restrictions when it comes to the number of participants you can gather and the reach you can have. Having this in mind we designed the experience behind the event as one that had to be understood by anyone, whatever their knowledge of coworking before attending.
As a result, we divided the event into 5 parts:
Why this book on coworking spaces around the world?
What's the role of technology in shaping collaborative workspaces?
How are collaborative workspaces contributing to the change of city landscapes?
What kind of positive impact are collaborative workspaces having on cities of different sizes?
Why is having a sense of community in the workplace important?
Why this book on coworking spaces around the world?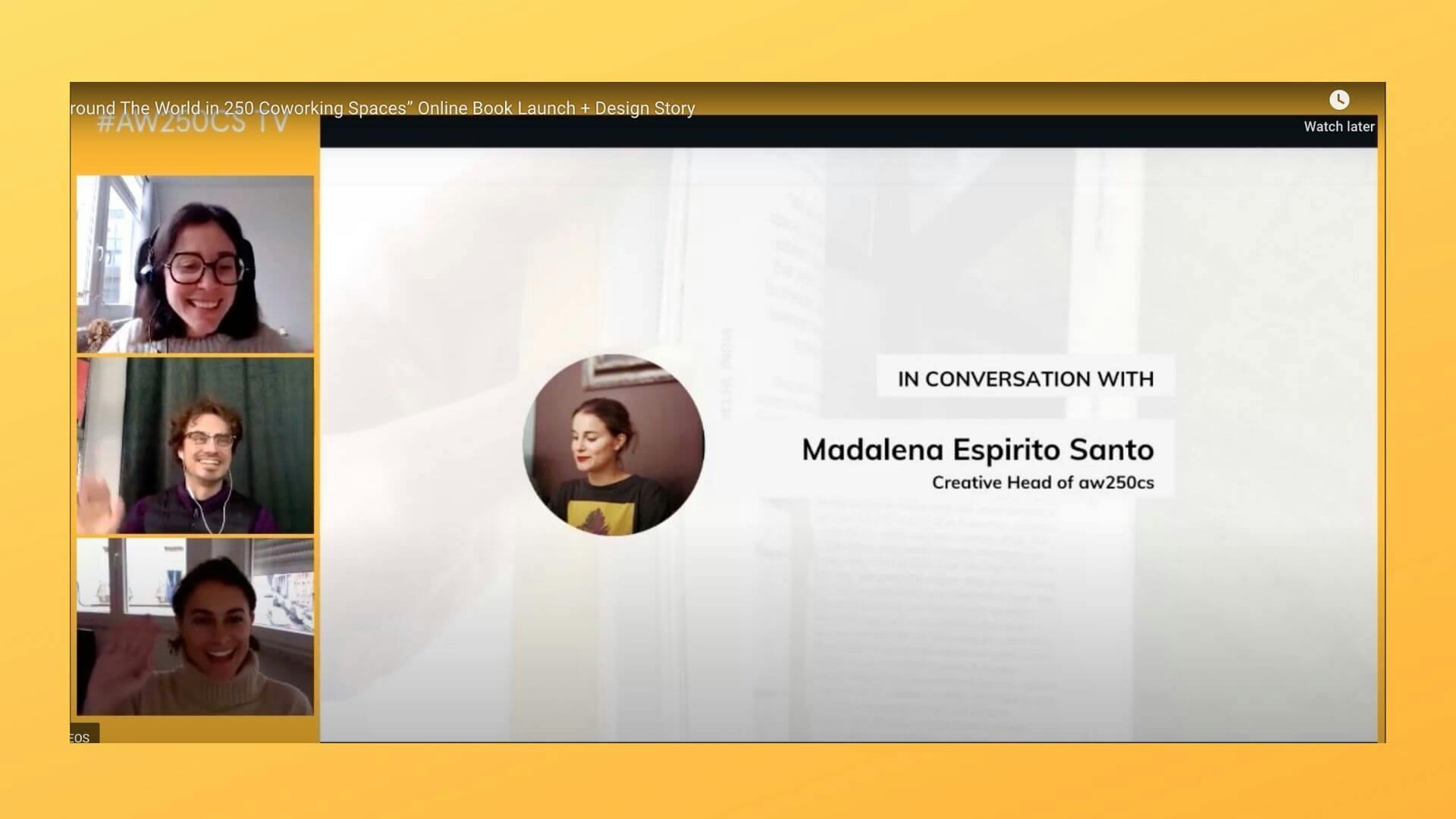 We thought that starting with the above questions is essential to set the tone of the event. In order for all participants to feel on the same page, it felt important to share the background story of the project, from why and how it came to life to who made it.
Besides bringing everyone to the same level of understanding of what coworking is, we wanted participants to understand that "Around The World in 250 Coworking Spaces" is more than just a book. Hence, we invited Madalena Espirito Sano, the designer of the book, to talk about the design process.
How did she take our initial idea and transformed it into what the book is today? ➡️ Get the answer by watching our chat with her here!
What's the role of technology in shaping collaborative workspaces?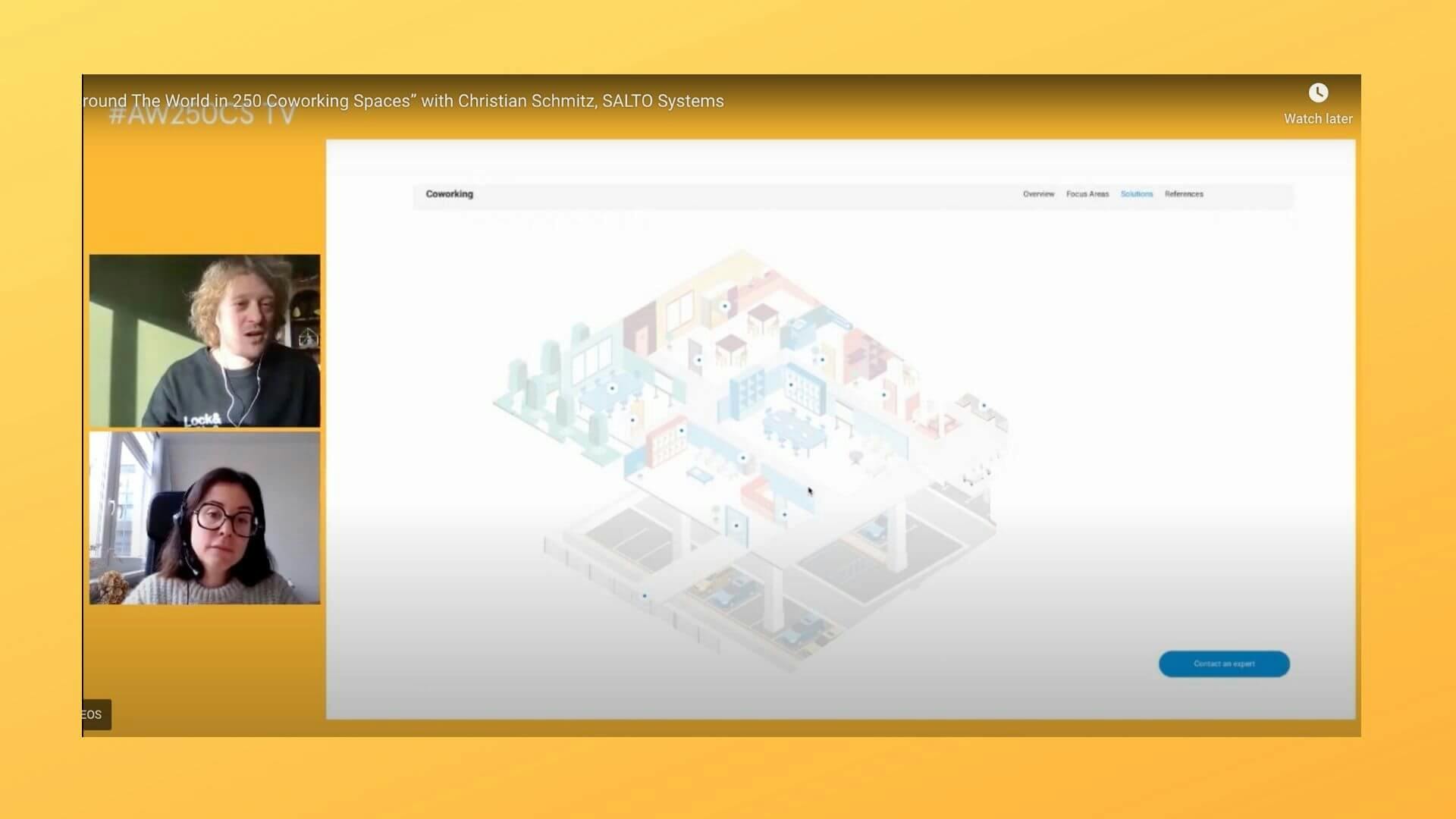 Collaborative workspaces are what they are today because of incredible products and services that allow the teams running the day-to-day operations to focus on creating value for their members, rather than spending time managing the door or the printer.
But, are people really aware of the importance of technology in shaping the overall member experience in a coworking space? Or how can technology make or break user experience in workspaces? To answer those questions we put together a talk on the topic with our partner: SALTO Systems. If you are not familiar with what SALTO does, they provide access control systems of different kinds to different sorts of buildings. When zooming in on what they do for the coworking and flex industry, SALTO Systems allows those spaces to be easily accessible and safe.
During the community launch, Christian Schmitz, Global Lead for shared living and coworking at SALTO Systems joined us to explain why access control systems matter, but most importantly, how they become a real game changer in managing the space.
➡️ Watch our conversation with Christian to learn for yourself why "Community is the Key".
How are collaborative workspaces contributing to the change of city landscapes?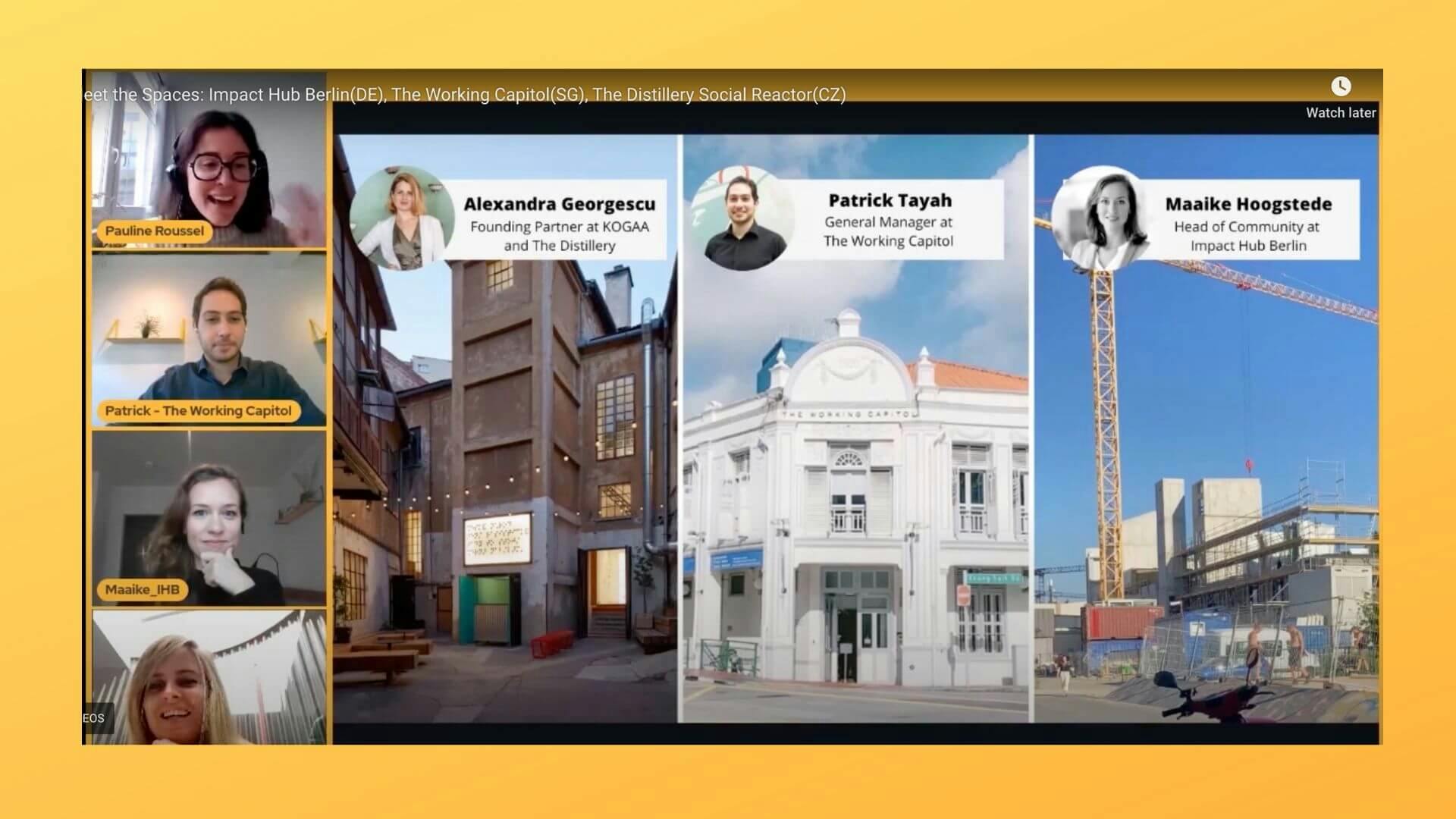 After setting up the stage and making it more accessible thanks to SALTO, it was time to dive into panel discussions with some of the spaces featured in the book. For the very first panel, we invited 3 space operators, from 3 different regions of the world, to discuss how their coworking spaces are contributing to changing their city landscapes.
Impact Hub Berlin: a coworking space focused on supporting social entrepreneurship.
The Distillery: a coworking space located in Brno, the second largest city in the Czech Republic.
The Working Capitol: a coworking space from Singapore, formerly a biscuit factory.\
Why those 3 spaces?
At the time of our LIVE stream event, Impact Hub Berlin was in the middle of building its brand new location, which would soon become the largest Impact Hub in Europe. We invited Maaike Hoogstede, Head of Community, to share with us how and why Impact Hub Berlin decided to build their new location in a sustainable way, following the principles of the circular economy.
The Distillery coworking spaces is a fascinating project in itself. Formerly the biggest distillery in Brno (hence the name), the building, which is quite centrally located, was left abandoned. Until KOOGA, an architecture studio from Brno decided to take it over and transform it into a social space where people from the city can attend events, have a drink in the smallest bar in the world (a former elevator transformed into a bar) or, as you might have guessed it by now, work from their coworking space YAY!. Having Alexandra Georgescu join the panel was amazing. An architect by trade, she shared key insights on how cities can benefit from having coworking spaces transforming and revitalizing old buildings.
As per The Working Capitol in Singapore, it felt that they shared a lot of similarities with The Distillery. Taking over what used to be a biscuit factory, they transformed the building into an ecosystem of its own. Patrick Tayah, General Manager at The Working Capitol, discussed the challenges that come with revitalizing old buildings but he also talked about the emotional attachment people living in the neighborhood often have with those and how much of a positive change it brings once what was left abandoned becomes alive again.
➡️ Make sure to (re)watch our conversation on revitalizing building via a coworking space
What kind of positive impact are collaborative workspaces having on cities of different sizes?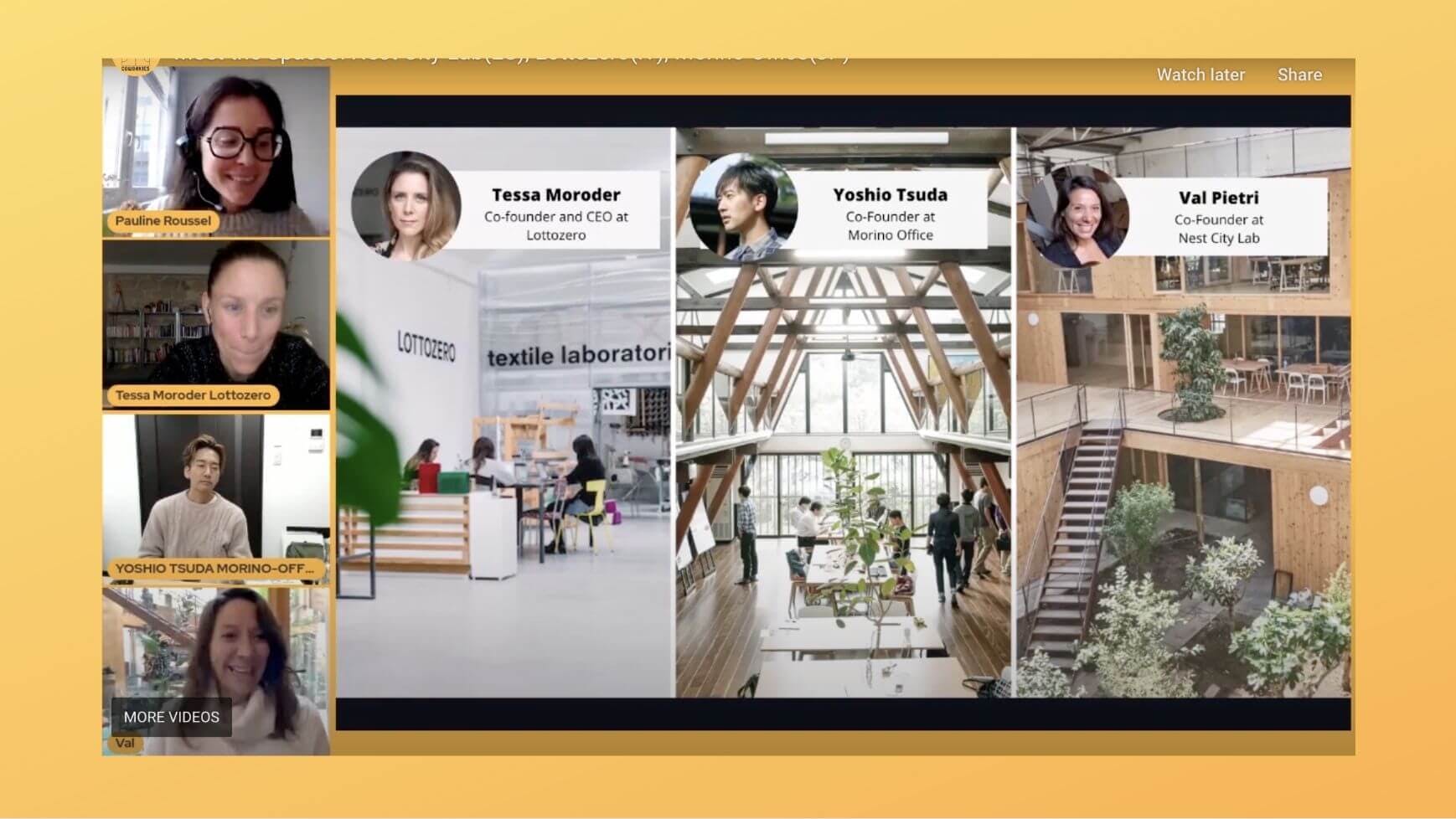 After looking at buildings, we delved into the positive impact of collaborative workspaces. Why was it an important conversation to have? In times when coworking has been announced "dead" (due to the pandemic), it felt important to remind everyone once again that no, coworking is not dead, actually quite the opposite.
The best way to demonstrate how alive is coworking is by showing the world how much of a positive impact it has all over the world, in big, second tier, and small cities.
Who did we invite on stage?
Once again, 3 very different spaces coming from 2 continents and 3 countries.
Nest City Lab, joining us from Barcelona in Spain.
Lottozero, joining us from Prato in Italy.
Morino-Office, joining us from Fujimi in Japan.
Same as in the previous point, let us explain why those 3 spaces.
Nest City Lab (also known as Apocapoc) is one of the very first coworking spaces we ever visited outside of Berlin. We've been following and admiring their journey and dedication to building a sustainable and eco-friendly coworking space for people and companies eager to build a better world. Inviting Val Pietri, one of the co-founders, to a conversation about positive impact felt very natural. During her presentation, she discussed why they focused on sustainability, as well as the impact both Apocapoc (their 1st location) and Nest City Lab have had on their neighborhoods.
Talking about positive impact could not have happened without Morino-Office and its founder Yoshio Tsuda. Located in a town 2h30 away from Tokyo, Morino-Office is much more than a place to work. It is a social space, one that has changed the small city of Fujimi, attracting families and younger people to live a slower, more community focused life.
During his introduction, Yoshio reminisced on the early days of Morino-Office back in 2015, when much of his time was spent educating people about what he wanted to build.
"Since the population of this town was decreasing by 180 people a year, with families leaving for Tokyo, the local government decided to look for people who can help bring more people to town, remote workers eager to leave Tokyo. That's how we started. I personally had a desire to get away from the city." - Yoshio Tsuda
While it took time for the community to grow, his consistency and persistence paid off. Morino-Office naturally grew to become a landing pad, a place where people new to town come to meet others, find jobs or attend events. Throughout the years Morino-Office developed and now has a coliving space as well as a campsite area where people can camp for a few days and enjoy life in the outdoors.
Our third person on the panel was Tessa Moroder, Co-Founder at Lottozero, talked, together with her teammate Alessandra Tempesti, about a collaboration project they ran together with a creative space from Japan on textile connections. What does it all have to do with positive impact? Through this concrete example, the duo reminded viewers that while collaborative workspaces are physical in their nature, the community they support and the impact they have goes way beyond their physical space. Through this collaboration project, both members of Lottozero in Prato, Italy, and Hirokawa in Japan were able to learn from each other and support each other's creative journeys. A fascinating story, touching on the very essence of coworking.
➡️ If the topic around the positive impact of coworking spaces is something you wish to learn more about, make sure to (re)watch our conversation with Val, Yoshio, Tessa, and Alessandra.
Why is having a sense of community in the workplace important?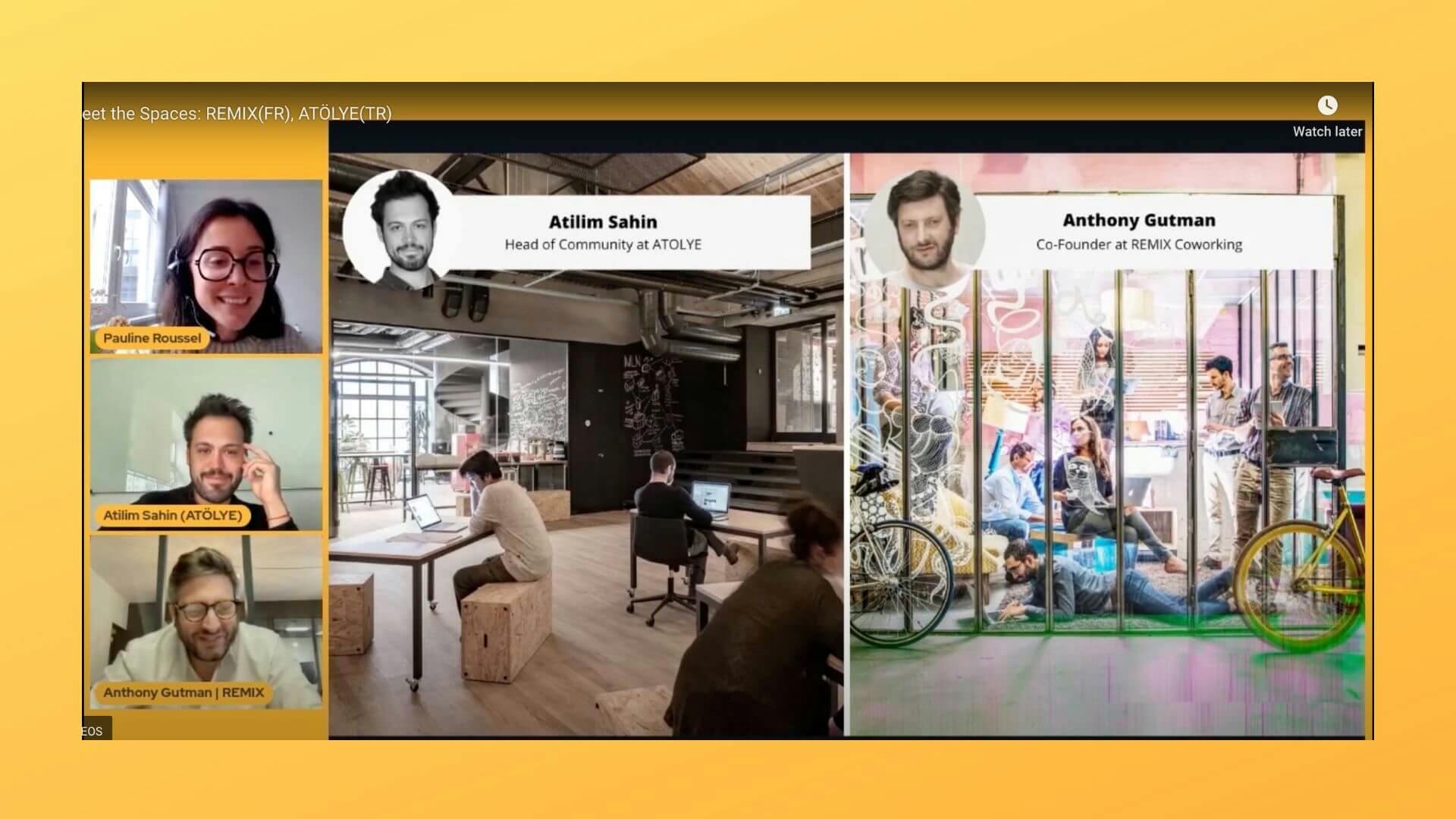 After looking at city landscapes and the positive impact of coworking spaces around the world, there was one last pillar we were keen to explore that day: Community. Bringing to life a coworking space (as in, the physical environment) is one thing, but the most challenging part of it all is definitely building a strong sense of community and engaging with members on a daily basis.
To help viewers understand what community really means in the context of coworking spaces, we invited two community-focused spaces to join the floor: ATOLYE from Istanbul and REMIX Coworking from Paris.
During our conversation with Atilim Sahin, Head of Community at ATOLYE, and Anthony Gutman, Co-Founder at REMIX a common line of thinking came out very early: the respective journeys of both ATOLYE and REMIX have never been about space, it has always been first and foremost about people.
"We always think that community comes first in everything we do. For our spaces in Istanbul and Dubai, that has meant that we first brought people together, and then we built the physical environments around their needs." - Atilim
Another key component of community building shared during our conversation is that it all happened because both brands had a very clear strategy right from the beginning. Ask important questions:
Why do we want to bring people together?
What value do we want people to get out of being a part of our community?
How do we create that value?
How do we create an environment where it's not about taking but also about giving back?\
Anthony reminded everyone that having a plan is great, but for REMIX, a lot of it went into practice and their community strategy became a constant work-in-progress.
"We put together an application process after 2 years of existence. This application process was meant only to protect our people and the work we did curate, grow and engage with our early members" - Anthony Gutman
What is "a work-in-progress community strategy"? It is a strategy that goes beyond what's written in a presentation. Through our work and our coworking consultancy, we see many coworking spaces trying really hard to bring people together without the success they envision. The real issue here, which was highlighted many times during our chat with Atilim and Anthony, is not that people are not engaging enough, it is that very often, coworking spaces do not have any community metrics, allowing them to measure and understand the impact of the work they are doing.
So if you read this article right now, and seek to improve the level of community engagement at your coworking space, rewatch our conversation with Atilim and Anthony and start defining community KPIs and metrics that will help you build with your members and not just for them.
Takeaways from launching "Around The World in 250 Coworking Spaces" online
Putting together online events has this magical element of connecting people from all corners of the globe. We experienced it once during Hack Coworking Online, living it again during the launch of our book on coworking felt very special, especially in times when traveling and keeping in touch with everyone was not as easy. Looking back at the hours we spent with everyone reminded us once again of our favorite quote:
"Coworking is the same dish everyone cooks differently." - Coworkies
What makes a coworking space thrive is not its location, but the people and the purpose they put behind their work, which is not to manage a space, but rather to bring people together at work - in new ways!
If you are curious to experience the different shapes of coworking, check out our book right here.
UPDATED 28/09/22 What's next? Participating at more coworking events, creating workshops and many learning sessions. To participate join us at the AW250CS Members Club - a place for coworking enthusiasts and industry professionals.
Interested to follow up how the book evolves? Follow us for updates on Twitter Twitter.com/coworkies.