Can you hear this? It's the sound of the printers 🖨️ at Alberto's print house, which have been working relentlessly to make "Around The World in 250 Coworking Spaces". Do you want to see more? Here is a little sneak peek he send us 🤩
The printing has moved quite a bit since our last month's update and there are now two steps left before we can start shipping your books:
In a few days from now, Alberto will send the exact date at which the books will be ready to be collected by the transport company.
Next, our shipping provider will collect the books and bring them over to us, where we will start preparing your pre-orders.
While waiting, things have been moving forward…
While waiting for the books to arrive here, the fulfillment part of all your pledges has started. What does that mean? Our fulfillment team has already started to create your shipping labels and parcels to save time and make sure we can start sending the books to you all just a few days after we get them. Content-wise, things are looking VERY promising as well, as, besides the book and DIGITAL52, there will be other surprises coming your way, allowing you to experience the book and its content yet again in new ways.
Surveys, surveys, have you filled out your surveys?
All of that means one thing: if you didn't fill out your Backer Survey OR if you wish to change your delivery address, now is the time! If you need help with this part of the process, don't hesitate to drop an email to Pauline - pauline@coworkies.co, she will help you finalize your pledge.
For those of you who selected DIGITAL52, you might wonder when you'll start receiving the "52 stories delivered weekly to your email for a year" well, the answer is: as soon as the shipping process starts. The exact date will be communicated to you all via a new update, once Alberto shares the date from which the books will be ready to be collected.
This is really the missing element of the rest of the chain as without that date, the shipping company can't give us the arrival date of the books here in Bulgaria.
On that note: to all the DIGITAL52 backers, do not forget to add your email address (you can still edit it in case it changed) so you can start receiving your weekly dose of coworking inspiration. Need help or have a question on how to edit your email address? Here again Pauline is your go-to person.
Join us next week, let's go to Greece! 🇬🇷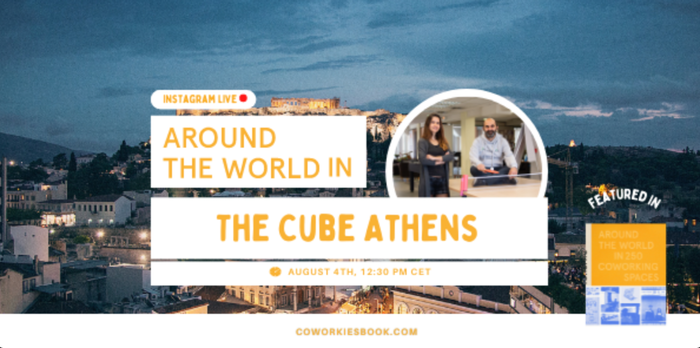 As you might remember, while the book is getting ready, we've been revealing bit by bit some of the spaces featured in it through weekly Instagram LIVES, inviting the founders and their teams to talk about their stories and show their spaces around.
If you are on Instagram, join us on August 4th, 12:30 PM CET (Paris, Berlin, Madrid time) for an Instagram LIVE with a multipurpose space from Greece which has been existing for over a decade and started out of… a hackathon! Fascinating right? To discover who they are and e-meet one of their co-founders, come and join the conversation!
How can you join? Simply follow us on Instagram and activate the reminder of the LIVE to get notified when it starts!
In case you wish to rewatch past LIVES, see below a little curated selection from coworking spaces located on… islands 🏝️: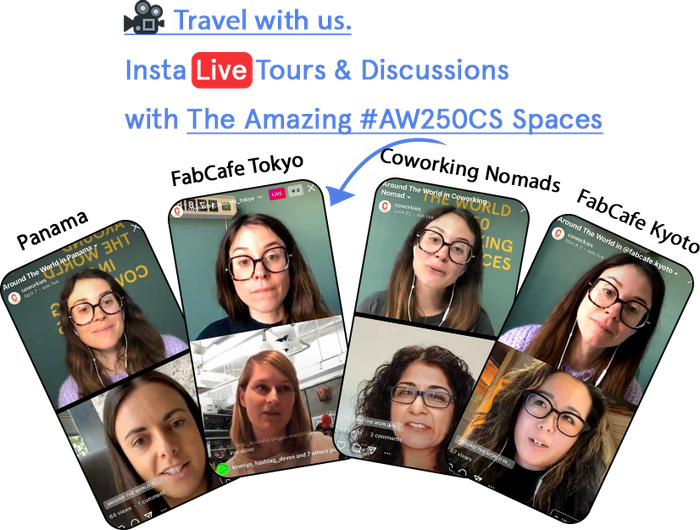 Make your way to the Canary Islands 🇪🇸 with Coworking Nomads! Tuning-in you'll for instance learn how Arti, its owner, went from member to take over the business.

Just a few (thousands) kilometers further, discover FabCafe Tokyo AND FabCafe Kyoto, two incredible makerspaces based in Japan!

Last pit stop, a far far away island, aka New Zealand 🇳🇿, where you'll learn the story behind Panama - a beautiful boutique coworking brand, changing the work landscape for the better in Hamilton, their home base.
Once again, thank you 💓!
Before wrapping things up, the entire aw250cs team wants to thank you once again for your patience and support over the last few months. The pandemic has surely challenged us in many ways throughout the course of this project, from rewriting most of the content when COVID-19 came into the picture, to experiencing massive delays with the paper earlier this year when yet another severe wave hit Italy.
The times we live in are quite unprecedented and we are really grateful to you all for the support you have given the project by backing it, but also, your understanding when delays came into the picture. Be sure that we work really hard in the background to deliver to you all a unique experience, be it through the physical book you'll soon have in your hands but also online through DIGITAL52 and the other surprises we've been working on so you can experience coworking to its fullest, from the comfort of your home.
Until the next update, take care, stay safe and… enjoy watching the Olympic Games 🥇🥈🥉 :)
Pauline, Dimitar and the AW250CS crew
Interested to follow up how the book evolves? Follow us for updates on Twitter.com.
To stay updated signup for our newsletter and make sure you don't miss any news around the book! Newsletter Updates.