Hello everyone, we hope you are all having a great start to the spring!
It's been over a month since the Kickstarter campaign ended, time flies so fast! We've been quite busy finalizing the book and wanted to update you on where we stand with it.
Are you ready? Keep scrolling down.
Content
Since the end of the Kickstarter campaign, we've actually spent most of our time updating and finalizing the content of the book. As a few spaces closed down, some went into big changes, we wanted to take the time to update their stories accordingly, ensuring in the meantime that you'll get the freshest updates when the book comes out.
We are now doing some fine-tuning while waiting for the book materials to arrive at our printer.
Printing Process
Alberto, our printer, and his team have been working really hard over the last month in preparing the printing process. As the pandemic is still hitting Europe really hard with many countries entering new lockdowns, we learned there would be some delay to receive the paper (which comes from Italy) as factories are currently working at a slower pace.
Alberto and his team are trying their best to accelerate the process, you can be sure we will update you here and via email whenever we receive more news from them.
DIGITAL52
While the book might be slightly late, DIGITAL52 won't. Starting early May, all of you who have filled out their surveys (see the next paragraph for more on that note) and provided their email addresses will receive it. In case you didn't add your email address and wish to receive the DIGITAL52, make your way in your survey (which you can still edit) and add your email address. Have you filled out your survey just yet?
Most of you have filled out their surveys, thank you very much for that! For those of you who didn't do it yet, please fill your survey out so we know where to ship your book(s). If you are unsure of where to fill out the survey, don't worry! Drop a comment beneath this update so we can contact you personally and help you out.
While waiting, join us on Instagram!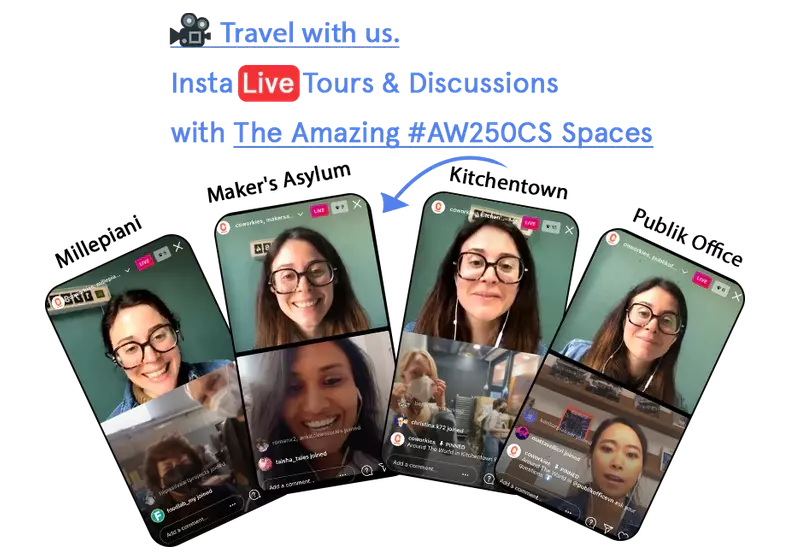 As the book is being finalized and waiting to be printed, we've been continuing our travels around the world of coworking spaces on Instagram. Come and join us there to discover new spaces every week and rewatch lives you might have missed!
That's it for now, thanks again for your support and your patience!
If you have any questions, feel free to either leave a comment below or send me an email directly at read at coworkiesbok.com so we can help you out!
Have a nice week and speak soon!
Pauline, Dimitar and the AW250CS crew
Interested to follow up how the book evolves? Follow us for updates on Twitter.com.
To stay updated signup for our newsletter and make sure you don't miss any news around the book! Newsletter Updates.